eNRMC Grant
Funding for Residential Aged Care
eNRMC Grant

Funding for Residential Aged Care
eNRMC Adoption Grant Opportunity
Funding to assist with the costs associated with implementing a compliant eNRMC solution in Aged Care
The Department of Health outlined a funding program scheduled to commence in July 2022 to encourage the early uptake of the electronic national residential medication chart (eNRMC).
The eNRMC Adoption grant opportunity will run over two and a half years, years, with the funding allocation for stage 2 of the grant allocating between $5,000 and $20,000 based on location and status​.
The eNRMC an initiative by the Australian Digital Health Agency and the Department, together with MPS we will help you transition to e-prescribing in your aged care facility to improve medication management and safety practices.
MPS were amongst the key providers that collaborated with the Agency and the Department on the eNRMC trial, we assisted in identifying the benefits to aged care facilities by implementing the eNRMC.
MPS Connect uniquely offers best practice, end-to-end medication management solutions for better health outcomes. We understand how essential a smooth transition is for your staff, your residents and your business. We are here to support you every step of the way in transitioning to eNRMC.
Contact us today to become an early adopter of eNRMC, book your FREE demo of MPS Medica by completing the form below, emailing us at hello@mpsconnect.com.au or calling 1800 003 938.
Why choose MPS Medica?
MPS Medica's eNRMC reduces medication errors and supports greater flexibility, communication and coordination between aged care staff, prescribers and suppliers, through access to real time information about medicines prescribed and administered to a resident. Our eNRMC software has proven to provide significant benefits to residents, RACFs, prescribers and pharmacists.
Important Links
We are here to help you apply and transition to eNRMC. See the links below to read more about this opportunity.
Electronic National Residential Medication Chart (eNRMC) adoption grant opportunity information pack
MPS Medica for all your medication management requirements including eNRMC, ePrescribing, Pharmacy Management and EMM for Facilities.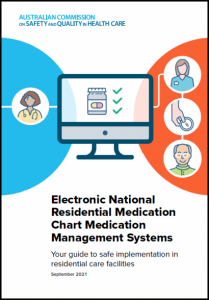 eNRMC – Your guide to safe implementation in residential care facilities.
Australian Commission on Safety and Quality in Health Care.
We believe in the safest delivery of medication through supporting facilities and staff with smart, easy to use systems.
Connect with us today
We believe in the safest delivery of medication. Learn more about the safest medication delivery.
Connect with us today
End to end medication management solution
"A system like this not only makes medication rounds safer it also makes the workflow more effective."
Lenora Steele, Forest Lake Lodge CEO
"A system like this not only makes medication rounds safer it also makes the workflow more effective."
Lenora Steele, Forest Lake Lodge CEO